Last updated on December 6, 2021
Earning from Viewpoint – a user's experience.
OVERVIEW
ViewPoint Forum is one of the survey websites under the supervision of MarketVision Research, a 35-year old company that has provided clients and companies with various ways of doing surveys for market research. MarketVision Research is currently residing in Cincinnati, Ohio, and currently partnered up with trust rating websites such as the much-accredited company that is BBB (Better Business Bureau).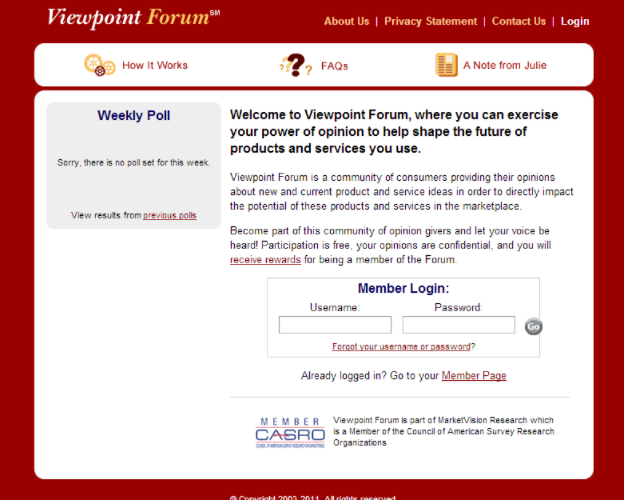 ViewPoint Forum is an invite-only survey website where it selects a few candidates and filters each only to match their specific requirements. They do not open their website to other people as it is a very prestigious survey website only available to profile-specific individuals.
HOW TO EARN
Just like any other survey website, you take a survey and you get paid for sharing your opinion. The thing that distinguishes this from other survey websites is that inside it, the website acts more as a forum rather than a survey website for each. That means you take the websites with other members altogether.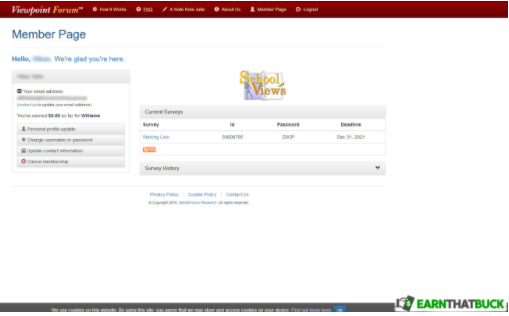 I can also say it is pretty strange for a survey website, but that is how their system works, apparently. When you are selected for their website, you will be sent an email telling you that you are invited to their website and that you may be a potential candidate for doing surveys for them. You are sent a referral link and when you click on it, you will be redirected to a screening survey for profiling each candidate. Once you are done answering that, you will be placed in a certain category in their user profile database and you will be handed out surveys based only on your demographic. 
When you are successfully put into a category, the surveys will come to you via your email. You will earn points for completing surveys on them. They call their currency there "Forum Points". Of course, each survey website has its own unique way of calling its currencies.
TIME & EFFORT
Every website has its advantages and disadvantages. Some have flawed surveys, while others have long cashout deliveries. All of them have their flaws, including this website. On ViewPoint Forum, this would gutter down to ViewPoint Forum's survey frequency. Surely you are expected to earn here because you were invited, so you won't be screened out of a survey here anytime soon unless you answer dishonestly. You'll be kicked out of a survey no matter what part of the survey you're currently answering. They'll give you a small reward for participating though as a way of compensating you and letting you know your time is not wasted on their website.
 The only issue is that you will only get two surveys per month. Yes, per month, at best. They don't give clear information as to why this is one of the standards of their website but it could be a good claim that they want to maintain their surveys in terms of integrity and significance.
There are also forum polls posted on the website, but that won't bring you any points like how Toluna Influencers does. According to their FAQs page, it is only considered a mode of entertainment for the current members of the website, so it has no significance or effect on your points, whatsoever. It is pretty fun to see some of the polls here, though. They have a wide range of topics and interesting questions from members of the ViewPoint Forum community.
REWARDS
Let me give you a heads up with the rewards here. Honestly, their rewards system is pretty confusing, to begin with. The reason behind this is that their conversion or exchange for cash is quite meticulous.
The current threshold for exchanging points to cash on this website is $20, which is computed in a basic calculator or by hand, and in this case, amounts to 750 points minimum. These are the required points you need in order to exchange for rewards on this website. At the time of this review, the points you can gather from answering surveys here start at 225 points, assuming that the survey is company-standard (meaning it equates the number of points based on complexity and survey duration). A typical survey here would take around 10-20 minutes to finish.
If you were to compute the points, around 225 points, that would be similar to $6 in currency. So that means you'll need around 4 surveys at most to finish before exchanging for cash on this website.
Also, it takes 2 weeks before the cash is credited to your PayPal account or you can exchange them for gift cards.
ISSUES
ViewPoint Forum has tried to keep its reputation as best as it could but in the end, there were some unprecedented events or issues that caused this website to go down the rankings. Some of the issues were:
Company-invited only members
Back then, people can refer other users to their website, but that was taken down and the only way you can enter this website is by being invited by ViewPoint Forum themselves. This is pretty unrelenting because the bar is set pretty much higher than it used to be, so don't expect anytime to get invited here.
It has a history of being hacked
Yes, even survey websites get hacked. Crazy, right? Even survey websites have piqued the interest of some scammers and hackers. They were hacked using GPS Spoofing. They have been a victim of it and much of the member's data were exposed to unwanted parties. Pretty big dent for the survey website, right?
Not many surveys to work with
This can be pretty normal for most survey websites so it is not much of a problem. Just a reminder that survey websites do not make you rich, so don't expect to earn a lot of cash from them.
USER REVIEWS
There has been a resolved report on BBB about a user saying that he was always getting screened out of surveys even though the initial agreement by the website is that you are entitled to two surveys at least from their website with the right to earn from these surveys. The user was an old member of ViewPoint Forum and was later resolved by ViewPoint Forum.
ViewPoint Forum responded about his concern and explained to BBB thoroughly that this was indicated in their Terms of Service and that every user has to reach the threshold before cashing out.
Working environments don't generally exist to support you, instead, you are there to support them.  While the population on mass has grown to understand and accept the same, more and more people are and have moved on to create and grow their own financial paths to a secure future.
For an alternative way to create and grow income on your own terms, the internet's leading compassionate affiliate company lets you create your income path with unlimited earning potential.