Last updated on September 15, 2020
What Does Toluna Offer?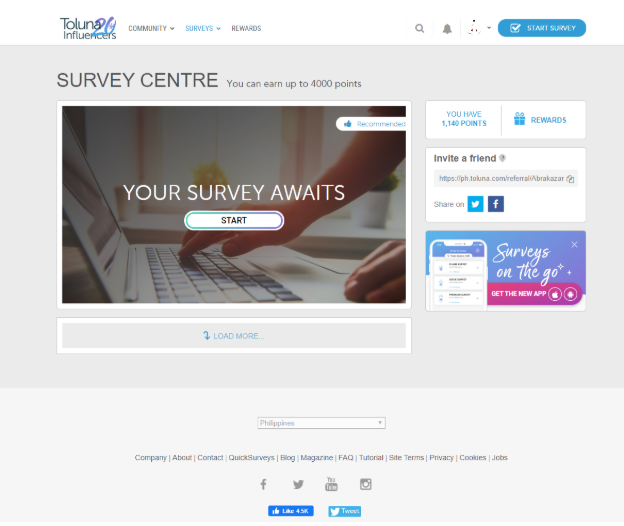 Price: Points that are exchanged for rewards range from $5-$6
Toluna Influencers is a worldwide survey community which is owned and operated by market company, Toluna Group. Toluna Influencers has millions of survey members who participate in a variety of market research opportunities and influence the future of the biggest brands worldwide.
The Good & the Bad
The Good:
PRO #1
When you register on their website and start to fill up your profile (located on the right side of the page or going to Surveys and selecting "Profile Surveys"), you get 100 points for completing each profile survey. These profile surveys only take up to 5 minutes to complete. Just by completing each profile survey, you get a total of 1200 points.
PRO #2
Toluna Influencers has surveys that are profile-specific, which means it sends you websites that match your profile and have no chances of getting screened out if you provide the details you have in your profile.
It is high-paying? Keep in mind the context. These points are only important in the Toluna environment. Outside of that, the points may not have significance. The high points may distract you from the small dollar rewards. It's like a balloon looking good until it pops and you see the actual size – no longer fitting the need. The range of their surveys goes from 2,000 – 10,000 points. 
PRO #3: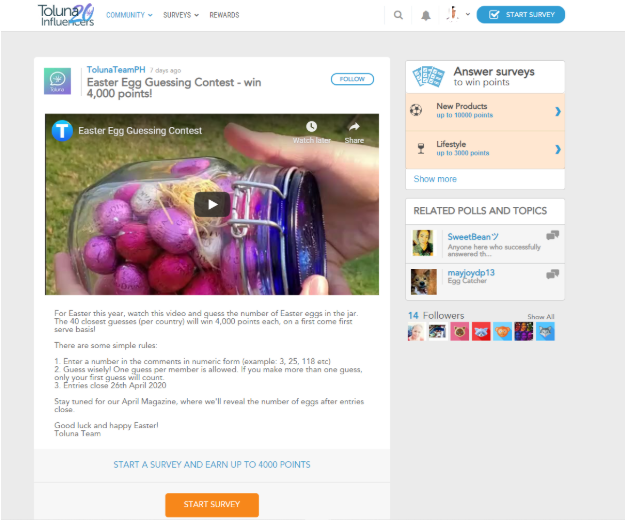 There are surveys almost daily. There are always around 2-3 available surveys daily ranging from 2,000 to 10000 points each. There may be instances that there are no surveys, but will refresh the day after. They provide quality surveys which topics include consumer preferences, new products, profile surveys (these are kind of rare), and targeted ads (these are my favorite). The reason I love doing surveys on targeted ads is because all you have to do is sit back and watch a few videos of their ads then you get a set of questions regarding the ad. This takes only 12-15 minutes for me to finish.
PRO #4:
You get notified for new profile-specific surveys. Since there are always new surveys, 1 in 3 of those surveys are profile-specific, and you can earn points from 2,000 to 10,000. Some product surveys give out around 4,000 points and take about 20 minutes to finish. It's much better than taking a 20 minute survey, but with lower points.
PRO #5:
They have a voting page called Quickvotes that makes you earn 15-20 points by voting on their polls regarding different topics like food, travel, lifestyle, consumer preferences, etc. These only take 1 vote away to earn these points. You can find them on your dashboard.
PRO #6: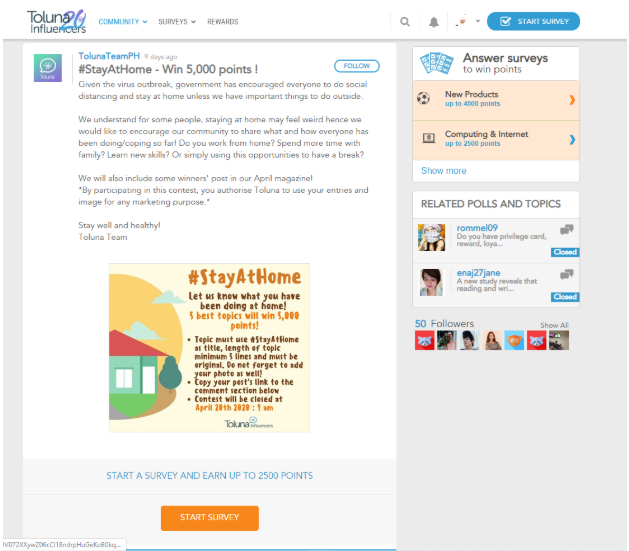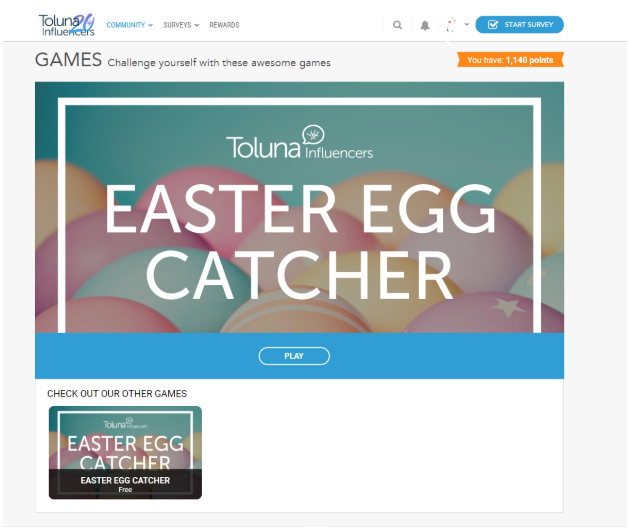 They hold monthly competitions to earn huge points and sometimes actual money. Here are some pictures of their latest competitions. You can find their competitions by looking up their own blog page called "TolunaTeam" on your dashboard.
 
PRO #7:
If you try to produce your own content on their community page and become an active content creator, you will get points if your post gets recognized by Toluna. Personally, I'm not a content creator there, but I have read on their website that you can earn points by posting unique content there.
The Bad:
CON #1
Long surveys. Yes, that is right. It takes around 20-30 minutes to finish a survey here, even if it is only 2000 points. However, once you get past around 5 minutes while taking the survey, it means you are qualified to take the survey and will get the points for that survey.
CON #2
Rewards take really long before they send it to your account, whether it be through email, PayPal, or Mobile Top up. It takes around 4-6 weeks (7 is the maximum)  from the day you exchange your points for actual money or gift cards. In my own experience, I exchanged my points for $5 worth of PayPal in June, and received the rewards on the 3rd week of August.
CON #3:
There is a server issue with the websites that will make you sometimes miss a survey. While I was taking a product survey on the survey center in Toluna, the website abruptly reloaded.
How Is Navigating the Website?
I noticed that when being brought to the website dashboard; they do not redirect you to a profile survey necessary for a survey website and is your foundation for qualifying on surveys. They make it optional, even though it is very necessary to put in your details.
Also, when finishing a part of the profile survey and clicking Save, I noticed that there is no back button after finishing your profile survey. You need to click on the website logo to navigate back to your dashboard.
Who is Toluna Influencers For?
Toluna Influencers is for people looking to earn extra income while having free time in their day. Although taking surveys from this website requires a bit of patience. The payoff satisfaction depends what you want the money for and how long you can wait for it.
When you convert from points to currency, you can get you a cup of coffee/some grocery items/ maybe clothing, pay part of a phone bill, but not pay your rent/mortgage, etc.
Think whether that is something you would want to do long term. If not, why not invest into an activity that dove-tails into your own business and provide you with internet marketing knowledge along the way? Make your time really count and start building your fortune today. 
Do Toluna Influencers Get Tools & Training?
There is a tutorial button that will take you into "Quick Tour" mode and will show you how each of the buttons work and how you can earn through their website. It is located at the bottom of your dashboard. It is right beside FAQs and Site Terms.
Toluna Influencers Support
They have a contact page at the bottom of your dashboard. Their inquiries are "tickets" which comprises a drop-down list of issues and subtype of issues, a summary of your issue, and a detailed description of your problem.
What is Toluna Influencers' Pay or typical earnings?
For an average user, it takes about 2-3 surveys (which is about an hour if estimated) before claiming a reward on their rewards center. Their lowest reward is AirAsia Big Loyalty points which require 14,000 points, while PayPal needs 20,400 points and Landmark which are 24,000 points.  Mobile Top Up requires 26,280 points, which is the highest. 
They also have a daily lottery wherein you buy lottery tickets with your points to enter the daily raffle. One lottery ticket costs 500 points and grants you a chance to win 1,000,000 points. However, you may only win once per month and I cannot guarantee your win, but it is worth a shot.
Payment Methods:
Paypal, direct, EasyPay, etc.
AirAsia Big Loyalty Points- 250 BIG points
PayPal- $5
Landmark eGift (or Amazon. Depends on your country)- $5-$6
Mobile Top Up- $6
Points Lottery- 1,000,000 Points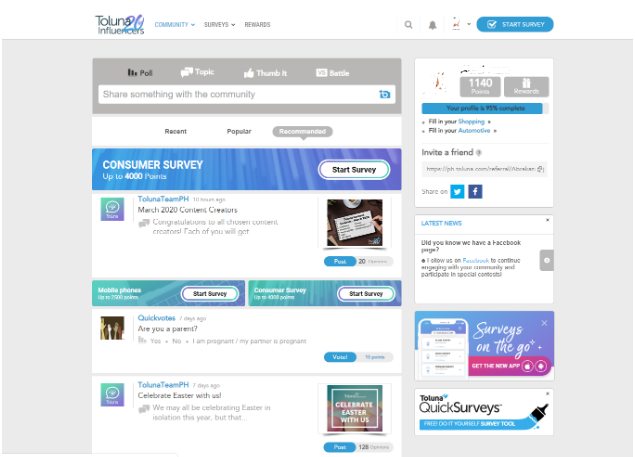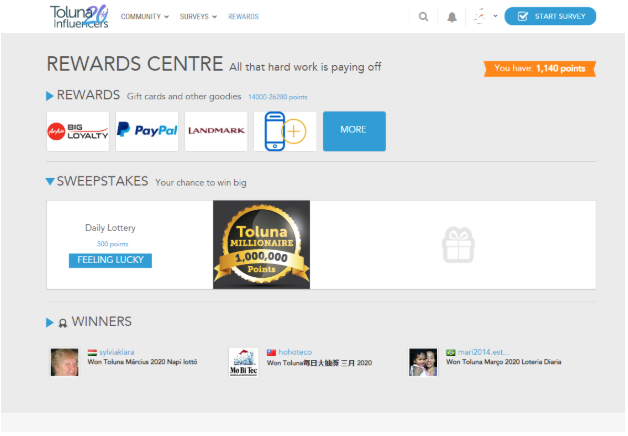 My Final Opinion of Toluna Influencers
I have used Toluna for my personal income back in college, along with other survey websites like Rakuten Insights and LifePoints. All I can say is you really need to be patient with this website that offers only surveys that take around a minimum of 15 minutes to finish. The reason it's that long to finish is because these surveys are strict with collecting data from you and if you cannot meet their criteria, you will get screened out.
Also, they pay you the rewards you exchanged with your points for after 4-6 weeks. It is a legit site, but you need to be patient with finishing surveys and waiting for your exchanged rewards.
Minimum Payment threshold:
PayPal, $6
AirAsia BIG Loyalty Points,$5-$6
Amazon Gift Cards, $6 Mobile 
This website also has many complaints on Better Business Bureau including technical problems on the website, processing of rewards and customer service, but they resolve their user's complaints there. Toluna USA, Inc. | Complaints
Some people may find this website bad, but in my own experience, I would still recommend this website if you don't mind unpredictable survey availability and the related pay.
But, since you have the perseverance to keep searching through a quagmire of possibilities, you have what it takes to start and prosper on your own website. Starting is a decision, prospering is the snowball effect of your actions. Get started.