Last updated on December 8, 2021
Have you ever wanted to know what to expect in an online gig before starting to actually work? WorkAtHomeReviews.Biz brings you real experience from working members of the respective companies, in this case, Ipanel Online. See if this online gig provides you with a worthwhile reward for your time. If not, see our No. 1 recommendation.
OVERVIEW

Review of iPanelonline
Ipanel Online is an online survey website founded in 2004. Ipanel Online was one of the early birds in survey websites throughout China. Right now, they boast of having 6.5 million members worldwide in 20 different countries. 
They are still looking for people from different regions to participate in surveys for market research.
HOW TO EARN
You earn through taking surveys. There are different types of surveys to take on this website. These are quick surveys, online surveys, telephone surveys, mobile surveys. Quick surveys are a questionnaire-type of online surveys which are shorter than online surveys. 
Mobile surveys allow you to take surveys through their app. Their app does have an issue where the language is only set to Chinese. When you try to change it to English, nothing happens and the language doesn't change either.
Telephone surveys are only exclusive to people with a medical background or with a degree in the medical field. The users that take these surveys are mostly doctors.
You can also participate in a weekly lucky draw, but occasionally there is a technical issue with their sweepstakes.
And lastly, you can earn points by referring people to register as a user to their website by sending them your referral link.
TIME TO COMPLETE SURVEYS
Surveys take 3-20 minutes to finish. Some surveys which are unique to specific audiences (probably people that match the criteria for their current research), take around 20-25 minutes to finish but give higher points when completed.
Also, when you get disqualified for a survey, you still earn points for taking that particular survey, so there is no loss in taking any of the surveys here. They reward you 60-80 points for typical surveys, while more profile-specific surveys give you between 150-300 points upon disqualification.
Survey frequency goes about 5-10 surveys per month. It may also depend on the region you are currently residing in as these market research companies focus on certain regions over time. When they have collected a specific amount of data, they move on to another region. They do not specify which region they'll focus on so be on the lookout.
It is also noteworthy that a lot of research surveys and product surveys seem to focus on current events as was the case with COVID-19. They are trying to build a market around the event, or so I think.
EFFORT
You don't have to take a survey one by one as they stated that you can complete multiple surveys at once. This seemed normal for most survey websites, but it was good that they stated this to ensure that users can finish multiple surveys without wasting too much time.
REWARDS
Their rewards for taking surveys range from 0.1 cents to $200. The minimum threshold for exchanging points for money is 500 points (which is $4). They say they send out your earnings after 1-2 days, but in my personal experience, I waited for almost a month before receiving my payout.
ISSUES
There are random Chinese translations on the website which a lot of users find unnecessary and unhelpful. Even if the website is set to your region, Chinese text is the language that is still displayed on some parts of the website.
What should happen is that the language should be set depending on what region you are in. You can't expect someone to depend on Google translator to know what they're dealing with. It is a bit frustrating and time-consuming for most users.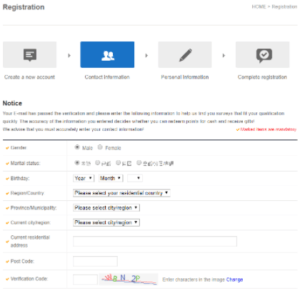 When going through the registration, they seem to be making you input a verification code every step of the way. A bit concerning in regards to web design.

On the "Redeem for Cash" page, the images for the current currency are outdated and should be considered for change.
They also stated that you are eligible to redeem up to $200, but when checking their Redemption page, it only reached up to $40. That means their current introduction to the website is also not accurate. They should change the earnings to be suited for each region. Otherwise, this would really confuse a lot of new users on the website.
There are also two issues with their so-called "Lucky Draw:" 1), the website doesn't have a page where you can use your points to buy sweepstakes tickets, and 2), the website does not clearly show what the users have won.
One more thing to note is that when you go to their website, you are met with this: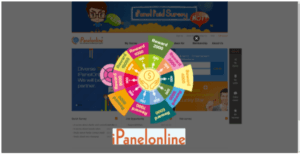 This is very misleading for people who are trying out survey websites for the first time. Although captivating to new users, it is a cheap marketing strategy to lure users into thinking this is how you earn through their website. It would be much better if they were met with a welcome message rather than a roulette that has no relevance to what the website actually does. For experienced users, this serves no obvious purpose and is not informative of any activity on the website.
MY EXPERIENCE
My experience firstly as a panelist is that they do give you around 5-10 surveys per month. It doesn't just depend on your region, but also your online identity and profile while doing surveys. You will only get a maximum of 10 surveys per month if and only if you perfectly match their criteria.
Secondly is that payouts take more than a month before being collected. Most survey websites have a fixed schedule of your payouts, unlike Ipanel Online which pays out randomly.
Sometimes pay is early, sometimes it is overdue —  beyond their promised date.
Thirdly, don't bother reaching out to their customer support as it will not only frustrate you, but they will also pass you to different customer representatives who do not even know about your current issue one bit. Most of the representatives here are inexperienced and will attempt to put you in a loop of calls and inquiries only to become unresponsive in the end.
Last but not least, their weekly draw is very confusing. But their lucky draw does attract users to their website. It is very confusing and they do not indicate whether you win points or money. All they put out is a list of winners without giving too much detail of what they've won. A proper example of showing legitimacy is by Toluna Influencers, which gives a weekly update on the list of winners, shows what they've won, and asks each winner for a short message about their winnings.
USER REVIEWS
It seems that users from different regions (South Africa, Hong Kong, USA) have the same opinion about the website not paying their users. The issue starts out with the website refusing to pay you and then when you contact their customer support, you don't get a response even after waiting weeks for a reply. 
One user posted a request for an audit regarding his payment request on August 19, 2020, and Ipanel Online responded after 4 months which is unbelievably long. They responded on January 31, 2020, and what they told the user is that their payment team will check his request and will get back to him after 7 days.
As of March 7, 2020, they still haven't gotten back to him. Upon waiting, he also sent 4 emails to their contact email, hoping to get an update with his inquiry but they did not respond at all.
FINAL OPINION
Earning is pretty slow on this website if you can even earn at all. In Southeast Asia though, a lot of users say that the website does in fact pay you for your opinion. 
As a final opinion, Ipanel Online branches out through several countries but every branch has its own issues. What I would say about this online panel is that it is not very good at management. Some users report that they don't pay, while other users say they pay. It's a mix of good and bad experience.
But if you were to sort these reports, it all goes down to how each branch of Ipanel manages its users. Ipanel India and the USA have bad reviews behind them while Ipanel in SEA countries have legit proof of payouts.
Name: Ipanel Online
Website: https://ph.ipanelonline.com/
Owners: IPanel Online Market Research Co., Ltd
The Good & the Bad
The Good:
PRO #1: You can complete multiple surveys in one go
PRO #2: Low payout threshold
PRO #3: You receive points even after getting screened out of a survey
The Bad:
CON #1: Long waiting before payout
CON #2: Unresponsive & inexperienced customer support
CON #3: Reports of users not getting paid in other regions
Ipanel Online Support
Their support page can be contacted through their sales group email. Do not bother contacting them via their customer service email. They are very unresponsive to users' inquiries.
Ipanel Online Pay or typical earnings
You can possibly earn around $4-$40 from exchanging points to money at most, despite them stating you can earn up to $200.
Compensation
Payment Method, PayPal, direct, EasyPay, etc

Ipanel Online
Pay: You can exchange points for $4-$40 PayPal
Is There A Better Alternative? Yes.
The No. 1 online affiliate marketer creates tools, reveals opportunities, and guides your development toward your self-designed financial success. It has outlasted its competitors not only because of its leading-edge technology but because of its commitment to its members. Find out more.