WorkAtHomeReview.biz puts the spotlight on Lifepoints to help you decide if the work and pay are for you.
Lifepoints Business Overview
LifePoints is a community of over 5,000,000 members from all over the world. Their contribution influences future products, services, and brands by participating in data collection and research. Consumer research is discovering what people like, dislike, want, and desire by asking for opinions about products and services. This Lifepoint does through surveys, product testing, and data collection. Their website may not be flashy and too compact, but they're very generous with giving points to their users. The question is what do the points add up to?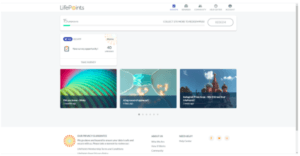 The Good & the Bad
The Good:
PRO #1: Can cash out with as low as $5.00 balance
PRO #2: Fast and easy surveys. Really.
PRO #3: You get some points even when getting screened out
PRO #4: Simple and modern website feel
The Bad: 
CON #1: You get easily screened out
CON #2: Surveys are not profile-specific
CON #3: There may be no surveys available for you for several days.
Who is LifePoints For?
LifePoints is for individuals looking for income just for answering surveys, even if they get screened out. LifePoints does not waste your time. They ensure you have a good experience with their survey site.
Lifepoints Support
There is a help center located at the top right corner of your dashboard. When you access it, you are shown a user-friendly dashboard with tons of answers. They know what you're looking for, and they have the knowledge bank to help you while on their website. They are really responsive to your inquiries, too.
Lifepoints Pay or typical earnings
You can earn Paypal cash which ranges from 5 to 20 dollars and Amazon Gift Cards up to 25 dollars. I made 10 dollars from this site in a span of a month. Very little considering I had time just not enough surveys available. But being 1 of 5,000,000 members could explain why in this case shorter faster surveys don't matter.
Compensation
Owner: Lightspeed Research Limited
Payment Method, PayPal, direct, EasyPay, Amazon gift card
Pay: $5-$20 in one month
My Final Opinion of Lifepoints
Lifepoints is pretty good when earning fast cash, but not enough to make a living out of it. Unlike other survey sites, this is one of the fastest ways to earn. They don't condemn your opinion. Personally, what would've kept me on their website while searching for something better would be quality, profile-specific surveys.
Anyone who is going to invest any time learning a tool to earn would need to consider what it is they are learning and will the skill be something you can later build on in future jobs. Not here. It is just surveys — enough to set a coffee or tea budget.
For a more satisfying path to earning while you train and uncap your earning potential visit the internet's No. one affiliate marketing company and get started building your website. Because in the end, only you can truly look out for yourself and you get a lot of help here.